You may have seen this graphic: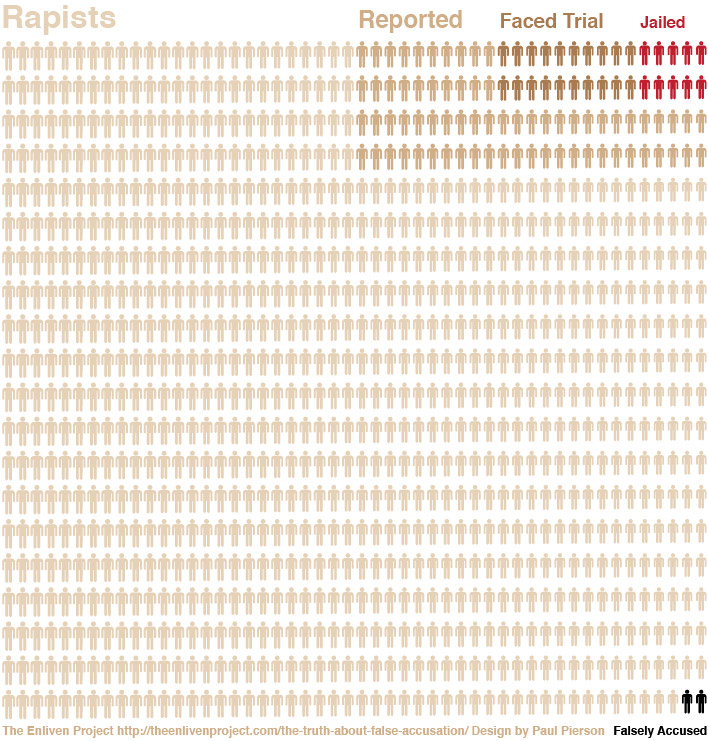 …which pur­ports to show that for every 998 rapists, there are 100 rapes reported, thirty peo­ple tried, ten peo­ple jailed, and only two peo­ple falsely accused.
The num­bers, par­tic­u­larly the last one—only two false accu­sa­tions for every 100 true reports—are very inter­est­ing to me. Where did the illus­tra­tor get them? Accord­ing to Sarah Beaulieu, who pub­lished it, "Sta­tis­tics from Jus­tice Depart­ment, National Crime Vic­tim­iza­tion Sur­vey: 2006–2010 and FBI reports."
Sounds good.
But wait. 
One of the key chal­lenges about sex­ual assault sta­tis­tics is that it's nearly impos­si­ble to gather accu­rate and con­sis­tent data about inci­dence and preva­lence.  This info­graphic doesn't do a per­fect job, but it com­bines data from sev­eral sources, both domes­tic and international.

* * * * *

For those of you who have asked, here is the back­ground on the stats we used:

Some reports sug­gest that only 5–25% of rapes are reported to author­i­ties. Other sug­gest that close to half are reported. We assumed 10%, which is dra­matic, but possible.
Of the rapes that are reported, approx­i­mately 9 are prosecuted. 
Of the pros­e­cuted, 5 result in felony con­vic­tions. This is across the board for all felony pros­e­cu­tions, not just rape.
Assum­ing that 2% of reported rapes are false and a 10% report­ing rate, the graphic assumes that 2 of 1000 rapes are falsely reported (assum­ing a rape can't be falsely reported unless it's reported in the first place)
No links, noth­ing. We have to trust Beaulieu that this is what the sta­tis­tics show. 
I know that it's not polit­i­cally cor­rect to call "bull­shit" when vic­ti­moc­rats are talk­ing about rape, but bullshit.
It's no longer "National Crime Vic­tim­iza­tion Sur­vey: 2006–2010 and FBI reports" but "data from sev­eral sources, both domes­tic and inter­na­tional," which sug­gests that the pre­vi­ous expla­na­tion, "Sta­tis­tics from Jus­tice Depart­ment, National Crime Vic­tim­iza­tion Sur­vey: 2006–2010 and FBI reports," was untrue.
How many rapes are reported? Maybe 5%, maybe close to half. Maybe more. Beaulieu said that they "assumed" 10%; it's dra­matic.
Of those reported cases, how many are pros­e­cuted ("faced trial")? Nine? No way. "We meant 9%"? Yeah, you've already proven that you're sta­tis­ti­cal morons. The info­graphic shows 30% of the reported cases being pros­e­cuted, assum­ing that some­one has to be pros­e­cuted to be jailed.
Of those nine pros­e­cu­tions, how many resulted in felony con­vic­tions ("jailed")? Five, based on yet another assump­tion, and more undis­closed data, and again the info­graphic (show­ing that  1/3 of rapists who face trial are jailed) does not match the num­ber pro­vided. (If you assumed, instead, that Har­ris County is typ­i­cal, you would find that in 2012, 172 sexual-assault-of-an-adult cases ended in dis­missal or acquit­tal, and 382 ended in con­vic­tion or deferred-adjudication probation—2/3 held respon­si­ble, near as dammit. Texas Office of Court Admin­is­tra­tion. See what I did there?) 
Finally, where does the 2% num­ber come from? Explic­itly, still another assump­tion. You can find a big­ger and more cred­i­ble num­ber, 5.9%, here—cer­tainly not a hotbed of rape apol­o­gists. (Note that this sta­tis­tic is based on alle­ga­tions being proven untrue. An unproven allegation—a "not guilty," for example—would count as true.) If you wanted a cred­i­ble rea­son to assume that the num­ber was even bigger—25%—you could find it here: "Foren­sic DNA typ­ing lab­o­ra­to­ries — as numer­ous com­men­ta­tors have noted — encounter rates of exclu­sion of sus­pected attack­ers in close to 25 per­cent of cases."
The Enliven Project's info­graphic is non­sense. If there's a num­ber in it that is any­where close to cor­rect, it's purely coincidental—Beaulieu links to noth­ing that sup­ports any of their assumptions.
I'm not inter­ested in mak­ing up my own non­sense, but if you did not assume that the unproven cases and the not-guilties are true alle­ga­tions, or if you assumed that the false-positive rate in all alle­ga­tions matched the exclu­sion rate in cases with DNA sub­mit­ted to lab­o­ra­to­ries, then that info­graphic would look very different.
You know what I think hap­pened? I think some­one sent Beaulieu an email like this:
Hello,

I wanted to drop you a quick email regard­ing your site at http://theenlivenproject.com and ask whether you would be inter­ested in us mak­ing an info­graphic for you?

I'm sure you receive sev­eral sim­i­lar guest post requests each week, so I wanted to quickly point out what I'm propos­ing and why this would be of value to you:

· We'll pro­vide you with an exclu­sive info­graphic cre­ated by us. Rather than sim­ply send­ing you a text based arti­cle, we do all of the research and arrange for one of our design­ers to cre­ate an info­graphic solely for use on your site. This isn't some­thing that has been or will be pub­lished elsewhere.

· Some exam­ples of info­graph­ics that we have recently designed and placed include…
Beaulieu bit, and is now scram­bling to jus­tify pub­lish­ing this nonsense.
I don't blame her. I blame the Amer­i­can edu­ca­tional sys­tem, which has cre­ated a nation of sta­tis­ti­cally innu­mer­ate con­sumers of eas­ily digested but false infor­ma­tion, includ­ing her and every­one who unques­tion­ingly spread this graphic around the internet.
We are all dumber for her efforts.
[A side note: in a sym­pa­thetic and only mar­gin­ally better-sourced cri­tique of the info­graphic at Slate, Amanda Mar­cotte writes: 
Those who do report run a very high chance of never see­ing a con­vic­tion, some because police drop the case on the slut-and-liar grounds and some because juries buy the defense attorney's claim that the vic­tim bizarrely pre­ferred being pub­licly accused of being a slut and liar to qui­etly for­get­ting about a night of forced sex.
Marcotte's premise is that women make false alle­ga­tions of rape after calm delib­er­a­tion. I believe the premise to be false.
Based on my expe­ri­ence defend­ing what inves­ti­ga­tion has con­vinced me are actual false alle­ga­tions of rape (prob­a­bly half the sexual-assault-of-an-adult cases I've defended, though you can­not, of course, assume either that I'm objec­tive or that if I were this num­ber would be in any way rep­re­sen­ta­tive of the entire pop­u­la­tion of rape alle­ga­tions), I do not believe that this is true. Here's why:
The false rape alle­ga­tion is com­monly made right after a con­trol­ling, pos­si­bly dan­ger­ous, boyfriend dis­cov­ers what appears to him to be infi­delity. It's a sick, twisted, impul­sive way for a per­son to get out of trou­ble, and the per­son who would make such an alle­ga­tion doesn't spend a lot of time before­hand con­sid­er­ing where the alle­ga­tion is going to go. I wouldn't call them sluts, but there are a whole lot of liars in the world, and once they've told that par­tic­u­lar lie it is hard to take it back.
Since I am not claim­ing objec­tiv­ity, I invite you to mea­sure that against your expe­ri­ence of human beings and of the world.]
[Update:
Related:
The Hon­est Cour­te­san, The Truth About "The Truth About…"
Over­lawyered, An in-faux-graphic on rape statistics
Sim­ple Jus­tice, For­ever Wrong (Update — and Wronger x2)
The Legal Satyri­con, Updated: That "info" graphic about rape? Bend it over, slap its ass, and forcibly fuck it with facts
]